The leader in Proptech before Proptech was a thing.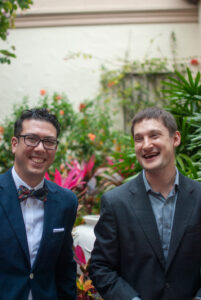 Founded in 2006 by Jon Mendoza and Mike Karikas, Neutrino creates innovative solutions for luxury real estate brokerages with custom technology matched with award-winning design.
Our real estate platform, IonHB, serves as the panacea platform for the top brokerages. Customized to fit your company's unique workflow, IonHB integrates existing tools, ties in to your existing vendors and systems, consolidates MLS data into one place (while handling duplicates and regulatory particulars), and provides marketing automation that agents actually use. Our platform has often been used as a recruiting tool as well, since it is truly setup uniquely for each company to help them sell homes the way you sell homes, and not a collection of existing tools that force you to adapt to them.
We have created countless tools to automate your firm's backend processes from leads to marketing, as well as several industry first solutions to create seamless integrations between the tech you already use.
Neutrino has provided our magic of highly-effective tools and design to top companies such as William Pitt SIR, Ruhl&Ruhl Realtors, Echo Fine Properties, Realogics SIR, Sea Glass Properties, Boston Condos, and many more
Award-Winning Design
Neutrino's websites have been honored to receive numerous design awards over the years:
RSIR.com – Realogics Sotheby's International Realty
2021 REAL Trends: #1 Best Overall Website, #1 Best Video, #2 Best Community Pages, #2 Best Property Detail, #3 Best Design, #4 Best Mobile
2020 REAL Trends: #1 Best Overall Website, #1 Best Video, #3 Best Community Pages, #4 Best Mobile, #5 Best Property Detail, #7 Best Design
2021 REAL Trends: #1 Best Property Detail, #3 Best Community Pages, #4 Best Overall Website, #5 Best Design
2020 REAL Trends: #4 Best Overall Website, #4 Best Community Pages, #4 Best Property Detail, #5 Best Design
2019 REAL Trends: #4 Best Overall Website, #4 Best Design, #5 Best Community Pages
Kurfiss.com – Kurfiss Sotheby's International Realty
2019 REAL Trends: #4 Best Property Detail Page, #10 Best Video
WilliamPitt.com – William Pitt Sotheby's International Realty
2018 REAL Trends: #1 Best Overall Website (beating out Compass in the #2 spot), #1 Best Community pages, #2 Best Property Detail, #4 Best Video, #7 Best Design and #7 Best Mobile Experience
2017 REAL Trends: #1 Best Design, #2 Best Overall Website, #2 Best Property Detail
2016 W³ Award for Website Features – Visual Appeal
2016 WMA WEBAWARD for Outstanding Achievement in Web Development
2015 REAL Trends: #1 Best Design, #3 Best Mobile Experience, #3 Best Neighborhood Pages, and #5 Best Overall Real Estate Website
CascadeSIR.com – Cascade Sotheby's International Realty
2017 REAL Trends: #2 Best Community Pages